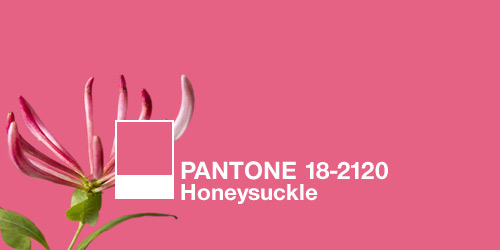 One of the easiest ways to add a little personality to a new home is with a fresh coat of paint. But picking a paint color can be a daunting task. It's a tricky balance between lighting, personality, mood and current trends. Are you one of those people who feels overwhelmed by the process of picking "the right color" and are left with a dozen swatches on walls and no direction? Pantone to the rescue! The leader in color and design recently announced their much-anticipated color of the year.
Pantone's 2011 Color of The Year – PANTONE 18-2120 Honeysuckle. Pantone's website describes the vibrant color as:
Energizing Honeysuckle lifts spirits and imparts confidence to meet life's ongoing challenges.
A Color for All Seasons. Courageous. Confident. Vital. A brave new color, for a brave new world. Let the bold spirit of Honeysuckle infuse you, lift you and carry you through the year. It's a color for every day — with nothing "everyday" about it.
So how does one incorporate this playful color into an interior design theme? Their article goes on to say:
Honeysuckle is upbeat and dynamic when used on large areas like the entry area of a house or an apartment. It is an appetite and conversation stimulant when used on the dining room walls. In the kitchen, it adds a fun touch on the table in placemats and other linens (patterned or solid), colored glassware, candles and small appliances. Honeysuckle is a great color to cover up shabby kitchen cabinets, or, if that's too much of a color statement for you, try repainting knobs and drawer pulls. But be warned – once you try this arresting shade, it can become addictive.
You can read the entire article at the Pantone site here.
Happy Decorating & Painting from the Altaire Team!
Join Altaire on Twitter and Facebook as we share news about our community and the greater communities of Palo Alto and Silicon Valley with friends, homeowners and community members!
Altaire is an Upscale Community located in beautiful Palo Alto. Now Selling New Contemporary-Style 1,2,3 and 4 bedroom homes.
Altaire Homes 3901 Fabian Way, Palo Alto, CA 94303 | 650.966.8881 Exclusively represented by: Pacific Marketing Assoc. #01220373