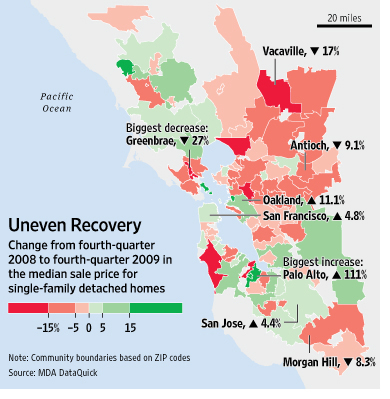 If you are still waiting for the "bottom" to hit, it may have already happened.
Per this recent article on the online Wall Street Journal, homes in the Bay Area are starting to show signs of a tentative recovery.  According to DataQuick, a La Jolla-based data provider for the housing industry, cities closer to the Coast are recovering better than inland properties.
"We appear to be in the early stages of a fragile recovery," said Andrew LePage, a DataQuick analyst.  Coastal communities dominated the the increase in housing prices, accounting for 24 of the 29 regions that posted positive price gains.
Palo Alto led the way in price appreciation.  The median home prices of Palo Alto more than doubled from a year ago to $1.1 million.  According to the article, Palo Alto's price per square foot soared 98.7% last year and area real-estate agents say homes sales are brisk.
This is good news for the peninsula as a whole, and Palo Alto in particular.  So if you are still on the fence, you may want to revisit the idea of owning a new home in an economically stable area in a great neighborhood with excellent schools for your family.
Altaire offers homeowners more than just ownership. Our beautiful, newly constructed Townhomes are already updated with all of the features and finishes that you may find necessary when buying used, saving you from having to live through a remodel. Altaire also offers an ease of lifestyle with access to the beautiful new OFJCC just steps from your front door, where you and your family can enjoy fitness, culture, events and the arts.
Still undecided? Stop by our sales center for a tour! We'd love to meet you and show you around.
http://www.regishomes.com/altaire/
Altaire is an Upscale Community located in beautiful Palo Alto. Now Selling New Contemporary-Style 1,2,3 and 4 bedroom homes.
Altaire Homes 3901 Fabian Way, Palo Alto, CA 94303 | 650.966.8881 Exclusively represented by: Pacific Marketing Assoc. #01220373