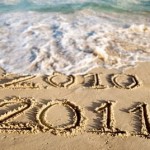 With the New Year comes New Year resolutions. Getting organized, personal health/well-being and financial stability usually round out the typical list of those interested in making a change for the new calendar year.
So what did Palo Altans want to change in 2011?  Locals interviewed in a recent Patch article came up with the following resolutions: Achieving your Goal Weight, More Time for Travel & Obtaining a Vocational Goal.
The article also came up with some excellent advice, whatever your resolutions may be:
Some can be skeptical of resolutions, but setting yearly, monthly or even daily goals for accomplishments both big and small can help keep you focused and on track, to achieving the things you really want in life.
Resolutions tend to be very personal in nature, usually dealing with changes in your own life.  But have you considered a resolution to make a change in the life of others? If this sounds appealing to you, check out http://www.resolution11.org, a site that encourages people to list their altruistic resolutions. Their website's tag line says it all:
Make Your Resolution. Decide. Submit. Commit.
What a great idea. Helping yourself while you help others. From their website: Resolution '11 is a at its core a public challenge to individuals and groups to make commitments to causes and issues that are close to their hearts.
At Altaire, one resolution that comes to mind that will help individuals, as well as the greater community, is to resolve to be green and environmentally-conscious with daily decisions.  If you own at Altaire you are already contributing, as our community is built to Build It Green Standards. A Green-Point rated home gives you the assurance that you're getting a healthier, more environmentally responsible home for your family because rated homes are verified by third party Certified GreenPoint Raters to exceed state building and energy code requirements for health and environmental performance.
Looking for more ways you can live environmentally-conscious in 2011? A recent Patch article also had some excellent advice on how to implement a greener lifestyle.
Altaire hopes that you, and your family, have a prosperous and fulfilling 2011.
Altaire is an Upscale Community located in beautiful Palo Alto. Now Selling New Contemporary-Style 1,2,3 and 4 bedroom homes.
Altaire Homes 3901 Fabian Way, Palo Alto, CA 94303 | 650.966.8881 Exclusively represented by: Pacific Marketing Assoc. #01220373