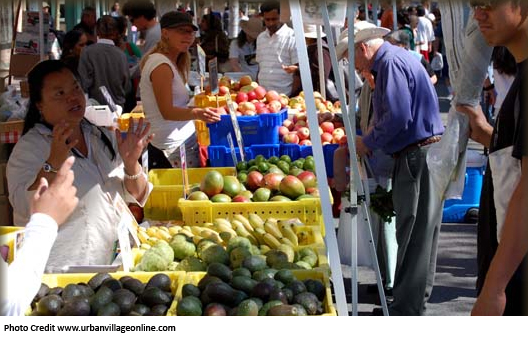 It's hard to beat the experience of a Farmers' Market….the sights, the smells and colors are all a welcome escape from our daily, hectic lives.  Altaire is very fortunate to have a year-round farmers' markets right here (every Sunday) in Palo Alto  California Avenue Farmers' Market. This wonderful venue is run by Urban Village Farmers' Market Association, a Non-profit Mutual Benefit Corporation providing "the best possible opportunity for farmers, food vendors, and community members to preserve, enhance, and enjoy regional fresh quality foods."*
A leisurely day at the market followed by a meal prepared with fresh picked ingredients makes for the perfect Sunday!  Stroll the aisles for produce, baked goods, fresh meats and crafts.  The good people at Urban Village have taken the time and compiled this very helpful resource list to aid in making your shopping experience a memorable one:
Use the market as a place to plan your meal. Go to the market, and get inspired. Learn to shop and eat "seasonally." Produce harvested and picked vine or tree ripened always taste better and will enhance any meal.
Talk to the producer. Get invaluable information on even the most common fruits and vegetables.
Buy a new item every once in a while. Ask the person next to you or the producer to give you some ideas on how to use it. Or trust your intuition and take it home, taste it raw, steam, roast, grill or stir-fry whatever is in season. This is one of the keys to creative cooking.
Get the kids involved. Give them a few dollars and let them buy whatever produce they want and will eat. It's a great way to make them responsible rather than you for eating fruits and vegetables.
Take your favorite basket or cloth bag. It's sustainable and environmentally friendly.
Recycle your plastic bags. After each market, tuck them back into your market basket. Again, it's an environmentally friendly thing to do.
Use your senses to find the best items. Smell, touch (gently) and taste.
Bring a friend to the market. Turn someone else on to the rich satisfaction that can be found through the food and community at the Farmers' Market.*
California Avenue Farmers' Market has an excellent selection of fresh items sure to please all shoppers.
Don't miss this nice collection of market photos to put you in the mood -> here.
Happy Shopping!!
Location:
California Avenue (at El Camino)
Palo Alto, Santa Clara County
Open:
Sundays
9:00am – 1:00pm
Year 'round
*http://www.urbanvillageonline.com
Altaire is an Upscale Community located in beautiful Palo Alto. Now Selling New Contemporary-Style 1,2,3 and 4 bedroom homes.
Altaire Homes 3901 Fabian Way, Palo Alto, CA 94303 | 650.966.8881 Exclusively represented by: Pacific Marketing Assoc. #01220373