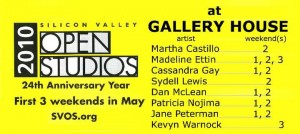 Often described as a small town, rich with urban amenities, Palo Alto has always had a love of culture and the arts. Altaire is ideally located, allowing access to a wealth of cultural amenities within minutes of home.
Love the local arts? Looking for the perfect piece for your new home at Altaire?
Silicon Valley Open Studios 2010 is here!
Every year, during the first three weekends in May, more than 320 Silicon Valley artists open their studios up to the public. This free event lets you discover some exciting new artistic talent, or get up close and personal with some of your favorite artists.
You can visit the studios of your choice between the hours of 11:00 a.m. to 5:00 p.m. on Saturday and Sunday. This year, the 2010 Open Studios are celebrating 24 great years and there is still 2 weekends left!
What's happening in Downtown Palo Alto?

Meet & Greet: 8 Artists in-person at Gallery House (11 am to 5 pm)
Gallery House is featuring 8 gallery artists who are participating in Silicon Valley Open Studios from May 4 to May 29. Enjoy the artwork, mingle and meet the artists during the SVOS weekends. It isn't often that you get the chance to hear from the talent behind the work in-person and discuss their inspiration and process. Who knows? You may just find that perfect piece that inspires you and is the ideal finishing touch to turn your house to "home".
For more information, visit http://www.galleryhouse2.com/
You can also follow Gallery House on Facebook!
Gallery House – 320 S. California Ave (through Printers Inc Cafe)
More information can be found on the Silicon Valley Open Studios website: SVOS.org
Attending the event? Share with us, share with your neighbors. Altaire is on Facebook and Twitter.
We'd love to hear about your favorite local artist!
* Photo credit to Gallery House, Palo Alto
Altaire is an Upscale Community located in beautiful Palo Alto. Now Selling New Contemporary-Style 1,2,3 and 4 bedroom homes.
Altaire Homes 3901 Fabian Way, Palo Alto, CA 94303 | 650.966.8881 Exclusively represented by: Pacific Marketing Assoc. #01220373