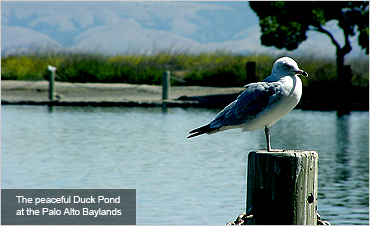 Within a short walk from your Altaire doorsteps, you will find the 1,940-acre Baylands Preserve.  The Baylands Preserve is the largest tract of undisturbed salt marsh and mud flat remaining in the San Francisco Bay.  Considered by many to be one of the best bird watching areas on the west coast, the Baylands Preserve has a substantial resident population of birds as well as being a major migratory stopover on the Pacific Flyway.  However, the Baylands Preserve offers much more than birdwatching.
Finding balance between work and life is sometimes hard to do.  We get it!  So many of us spend our weeks commuting, working long hours in front of our computers, then dashing to daycare or off to errands, only to begin all over again the next day.  It's easy to forget to take time for oneself.  Altaire offers an ideal location, where you can enjoy an active lifestyle, both indoors and outdoors, at a moments notice.  There are a variety of activities to do, whether it is on the land – walking, running, golfing or biking – or on the water, wind surfing, and boating (non-motorized such as canoes, kayaks or small, hand-launched boats and sailboards).  There are fifteen miles of multi-use trails providing access to a unique mixture of tidal and fresh water habitats for the whole family to enjoy.  Especially popular is the duck pond!  By living so close to these community amenities, you can make the most of your free-time.
The City of Palo Alto also offers a variety of nature walks and programs on ecology and natural history.  More info on Altaire's neighbor, the Bayland Preserve can be found here.
In order to protect this natural resource, please follow these few rules when visiting the preserve:
Park in designated parking areas.
Dogs are permitted on leash, unless posted in special nesting areas.
Speed limit 15 MPH.
Skates and coasting devices are only allowed on paved, off-road preserve trails (along East Bayshore Road and behind the Baylands Athletic Center) due to narrow roadways.
Please do not feed wildlife or abandon pets or birds such as rabbits, geese or ducks.
Altaire is an Upscale Community located in beautiful Palo Alto. Now Selling New Contemporary-Style 1,2,3 and 4 bedroom homes.
Altaire Homes 3901 Fabian Way, Palo Alto, CA 94303 | 650.966.8881 Exclusively represented by: Pacific Marketing Assoc. #01220373