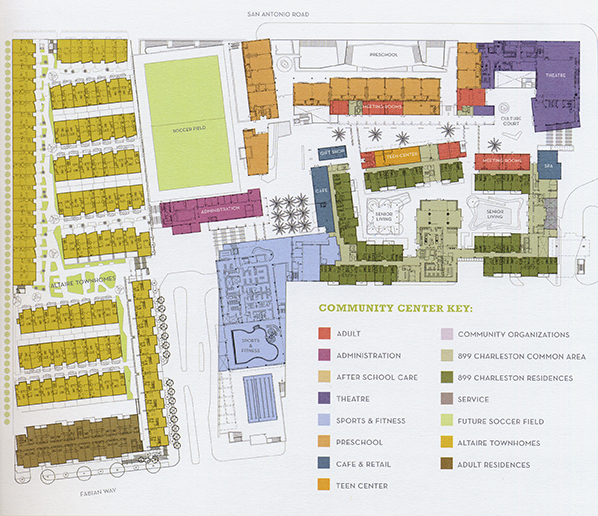 We couldn't have asked for a better neighbor!
Altaire adjoins Palo Alto's new JCC on 12-acre parcel of land previously owned by Sun Microsystems at San Antonio and Charleston roads near Mountain View at the Palo Alto border.
Just a short walk from your front doorstep and you can enjoy the JCC's 135,000 s.f. of recreational space. With state-of-the-art facilities and organized programs serving preschoolers to retirees, and everyone in between, there is something for everyone to enjoy in this greater community!
What's even better?
ALTAIRE HOMEOWNERS GET 1st YEAR FREE AT JCC!
The impressive facilities have been built with the environment in mind and boast the following amenities:
State-of-the-art Goldman Sports and Wellness Complex with the latest equipment
Double-court gymnasium
Yoga, Pilates and Spinning studio
Large indoor and outdoor pools
Classrooms and lounges around the campus
Facilities for large and small classes
Schultz Cultural Arts Hall with sophisticated lighting and acoustics. Can accommodate over 300 people for music, art, drama and lecture events.
Dedicated preschool building; 12 preschool classrooms
Teen center
Café
Gift shop
The Grand Opening Celebration of the new JCC in Palo Alto is on October 18th from (10-5).
The days of rushing in all different directions for work, school, daycare, culture, and recreation are over. Take a deep breath and reflect on a life well lived. Relax by the pool, in the yoga studio or at your favorite cafe.
If you are seeking a more balanced approach to living, look no further than Altaire. Be sure to visit us on October 18th and check out the Grand Opening Celebration of Palo Alto's newest community amenity.
Altaire is an Upscale Community located in beautiful Palo Alto. Now Selling New Contemporary-Style 1,2,3 and 4 bedroom homes.
Altaire Homes 3901 Fabian Way, Palo Alto, CA 94303 | 650.966.8881 Exclusively represented by: Pacific Marketing Assoc. #01220373