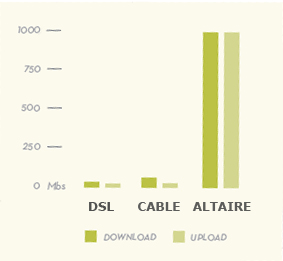 Altaire makes it easy to work from home with high-speed data and fiber-optic wiring.
Regis Homes of Northern California built our community with the future in mind and pre-wired Altaire homes with high-speed fiber-optics, so that you can claim your tomorrow today!
The Altaire community has partnered with a leader in fiber-optic technologies to bring you the life-enhancing benefits of fiber to the home.*  Distance learning, telecommuting, video on demand and online gaming are just a few of the existing applications that fiber to the home makes possible.  Fiber-optics also make it easy to enjoy movies, photos and music at mind bending speeds.
What is fiber-optics?
High-speed fiber-optics is a unique technology that transmits data through thin strands of glass fiber, using laser-generated pulses of light.  Most U.S. based homes have copper wiring that connects them to a telecommunication network. Fiber optic connections are more often reserved for the primary links.  Since "the last mile" is known to play an important role in the quality of your service, many providers are offering fiber-to-the-premises (FTTP). FTTP replaces that last-mile of copper with fiber optic cable, providing Altaire Palo Alto homes with the best possible connection, and the best possibility of quality service.  Since light travels faster than any other wave, at 300,000 kilometers per second, you are able to work and play that much faster speeds!
•  Speeds up to 1,000 Mbps
•  No modem required
•  Plug your computer into any Internet port throughout your home
Whether you are a telecommuter, designer or an avid online gamer this feature is sure to benefit your lifestyle in the heart of Silicon Valley.
3rd party subscription required*
Altaire is an Upscale Community located in beautiful Palo Alto. Now Selling New Contemporary-Style 1,2,3 and 4 bedroom homes.
Altaire Homes 3901 Fabian Way, Palo Alto, CA 94303 | 650.966.8881 Exclusively represented by: Pacific Marketing Assoc. #01220373