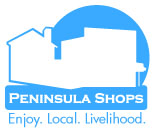 The Peninsula has a host of local businesses that make our life in Palo Alto more convenient.
We'd like to introduce you to "Peninsula Shops" – a merchant supported online community portal helping to strengthen and unify local livelihood on the Peninsula. Peninsula Shops was founded on the idea that the Peninsula is our livelihood. Founder, Jason Sutherland does a great job of connecting local residents to local business, all in one spot.  In fact, Peninsula Shops was just featured in the San Francisco Examiner- "Twitter Treasure Hunt Promotes Local Shopping" read it here 
The Peninsula Shops site has menus for:
Members Directory/Map
Specials of The Day
Events Calendar
Peninsula Twitter Hunt
News/Resources
Games
Recently Peninsula Shops introduced the TownSquare/Blog Forums, which allows the community to share their thoughts on just about everything.  It is a great place to share local tips on the Peninsula's best spots and what business provide great service.  This forum is also broken down into convenient categories:
Arts & Entertainment
Wine & Dine
Local News & Politics
New Media & Technology
Retail & Services
Jason has generously offered business owners in our community a discounted membership.  If you are an Altaire resident that owns a local small business, use the coupon code ALTAIRE and receive $50 off your 1st year of annual membership!
What a great local resource!  Thank you Jason. We wish you well on this exciting venture.
Follow Peninsula Shops on Twitter  www.twitter.com/peninsulashops 
You can also find the Peninsula Shops as one of Altaire's Favorites on our Facebook Page.
Become a fan of both Altaire and Peninsula Shops!
Altaire is an Upscale Community located in beautiful Palo Alto. Now Selling New Contemporary-Style 1,2,3 and 4 bedroom homes.
Altaire Homes 3901 Fabian Way, Palo Alto, CA 94303 | 650.966.8881 Exclusively represented by: Pacific Marketing Assoc. #01220373