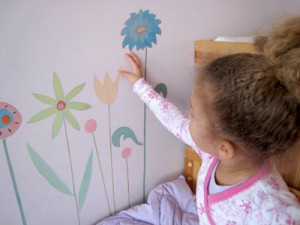 Simple, yet effective!  Wouldn't our busy lives all be better if more companies embraced this philosophy?  How many times have we tried our hand at something only to find it too hard to get an effective and pleasing result.  Those days of struggling are over when it comes to decorating your child's room.   Introducing  Muralette : the latest in wall decals for kids.
Installation and pleasing creative results are a snap.  Artists Anna Conklin and Genevieve Smith make decorating your little one's room fast and effective.  According to their site, Muralette Wall Decals are "No fuss, no muss… Just peel and stick!  There is no "right" way to design your Muralette – it's fool-proof and fun, so just relax and play!"
The company offers four sets of striking wall decals: Fishies, Garden of Posies, Branch and Birds and Polka.   The artists also take the environment and your child's health seriously by using all water-based paints and varnishes that lack toxic fumes, and use low VOC paints whenever possible.
Now through November 26, Muralette is having their biggest sale ever, 25% off your entire Muralette order!  Just enter the secret discount code "gobble" at check out. Pass it on to your family and friends.
Don't let your loved ones miss out on this amazing opportunity.
Happy Thanksgiving!
Anna & Genevieve
For all the details, please visit their website or become a Muralette Fan on Facebook
Altaire is an Upscale Community located in beautiful Palo Alto. Now Selling New Contemporary-Style 1,2,3 and 4 bedroom homes.
Altaire Homes 3901 Fabian Way, Palo Alto, CA 94303 | 650.966.8881 Exclusively represented by: Pacific Marketing Assoc. #01220373