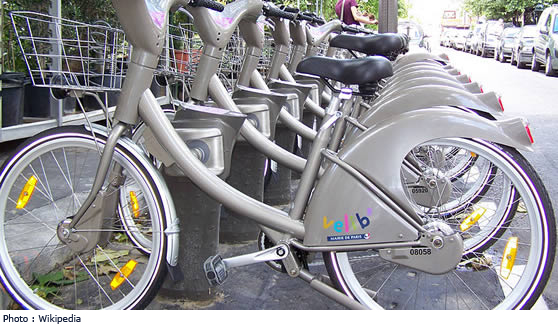 According to a recent article in the Mountain View Voice, Palo Alto could be one of three transportation hubs to test a new bike ride share program thanks to a $500,000 grant secured by the Santa Clara Valley Transportation Authority. The VTA envisions 100 bicycles to be involved in the program.
Bike sharing is a relatively new idea to the United States, but there are successful transit models in both Paris and Montreal.  Basically it works like this:  make bicycles accessible to anyone who wants to use them, without the hassle or worry of bike parking or theft.  According to Jennie Loft of the VTA, "It's more about the commute versus going to the grocery store.  They can just kind of leave one (bike) behind and then catch up at the other side."*
The program would involve bicycles being available at three major transit hubs including Mountain View, Palo Alto and San Jose. Smaller sharing stations would be located within a three-mile radius of each other.
Altaire is excited about this opportunity. What a great VTA initiative and wonderful program to add to the livability of our community in Palo Alto!
Altaire is an Upscale Community located in beautiful Palo Alto. Now Selling New Contemporary-Style 1,2,3 and 4 bedroom homes.
Altaire Homes 3901 Fabian Way, Palo Alto, CA 94303 | 650.966.8881 Exclusively represented by: Pacific Marketing Assoc. #01220373