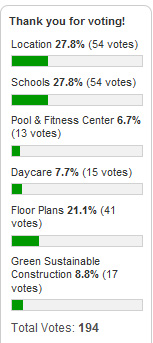 What is most important to you in deciding on a new home? Cast your vote today! Our Altaire blog reveals real-time poll results and the consistent top (2) rankings have been location and schools. This is good news for current and future Altaire residents! We are conveniently located on the Peninsula in beautiful Palo Alto and just so happen to be within one of the top school districts in the State of California!
In October, 2009 we shared an article by Chris Kenrick from Palo Alto Online: Palo Alto fourth in state among K-12 districts.
"On California's basic measure of academic achievement, the California Standards Tests (CST) in English and math, 85 percent of Palo Alto second- through eighth-graders scored "advanced" or "proficient." More than 50 percent scored "advanced."  Read Full Article
If you would like more information on Palo Alto Unified School District and its strategic plan to provide a first-class educational program to all of its students, more information is on the PAUSD site.  PAUSD Website
Important Dates
2010/2011 School Year*
Priority 1 Status:
Registration must be submitted online between January 5 and February 10, 2010
Priority 2 Status:
Registrations completed after February 10, 2010 are date and time stamped based upon online submission date.
* Important dates taken directly from the PAUSD website (link above). Be sure to review all registration requirements carefully, as there is no guarantee of registration. If you have questions, contact Central Attendance at centattendance@pausd.org or (650) 329-3707.
Join Altaire on Twitter and Facebook as we share news about our community and the greater communities of Palo Alto and Silicon Valley with friends, homeowners and community members!
Altaire is an Upscale Community located in beautiful Palo Alto. Now Selling New Contemporary-Style 1,2,3 and 4 bedroom homes.
Altaire Homes 3901 Fabian Way, Palo Alto, CA 94303 | 650.966.8881 Exclusively represented by: Pacific Marketing Assoc. #01220373