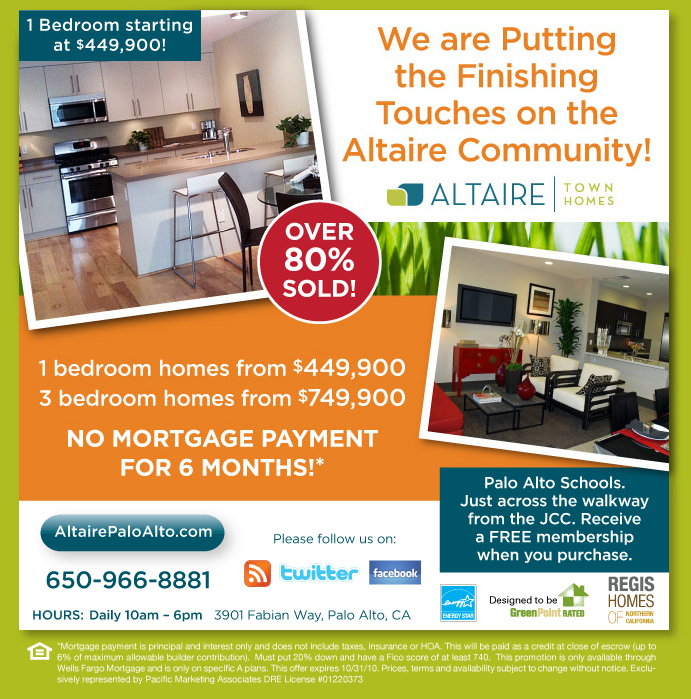 What are 3 reasons to make the move to Altaire in Palo Alto?
Location
Price
Lifestyle
Altaire makes it easy to own in Palo Alto! Our Peninsula location is highly desirable and offers the some of the State's best schooling, culture, and proximity to employment in the Silicon Valley. If you've never seen Altaire, we encourage you to come for a visit and see our unique campus location that is walk-friendly with many amenities, services and entertainment venues just steps from your front door. In fact, Altaire offers homeowners 1 year membership to our neighbor,  Palo Alto's new OFJCC. It is easy to see why Altaire is now more than 80% SOLD!
Altaire is offering a limited time special — Buy Now and We'll Pay Your Mortgage for your 1st 6 Months!* You can afford Palo Alto! Make the move while it is still a buyer's market…
Homes are still available starting at $449,900, so come by for a tour our beautiful models and seize the opportunity to call our lovely community HOME. We are nearing completion at Altaire and putting the final touches on our community – stay tuned for an upcoming celebration day…
Join Altaire on Twitter and Facebook as we share news about our community and the greater communities of Palo Alto and Silicon Valley with friends, homeowners and community members!
*Restrictions apply, please see disclosure above.
Altaire is an Upscale Community located in beautiful Palo Alto. Now Selling New Contemporary-Style 1,2,3 and 4 bedroom homes.
Altaire Homes 3901 Fabian Way, Palo Alto, CA 94303 | 650.966.8881 Exclusively represented by: Pacific Marketing Assoc. #01220373